THE COMPLETE GOAL SETTING WORKBOOK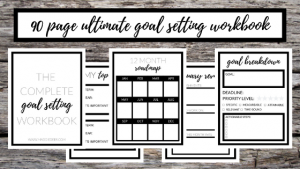 Hey Girl!
Now I know you have dreams and are ready to CRUSH it! Live your best life, accomplish everything you ever could have imagined, find your community (that girl-boss squad). Am I right?! I want to help you on your journey to living your BEST life! I want to be your personal cheerleader and watch you kick ass and be happy.
That's why I create content and freebies just for YOU! Right now I want to give you this FREE 90-page goal setting workbook that will be sent right to your e-mail! I also send bi-weekly motivation, freebies, and extra special content. I'd be so happy to have you! Just type in your email below!